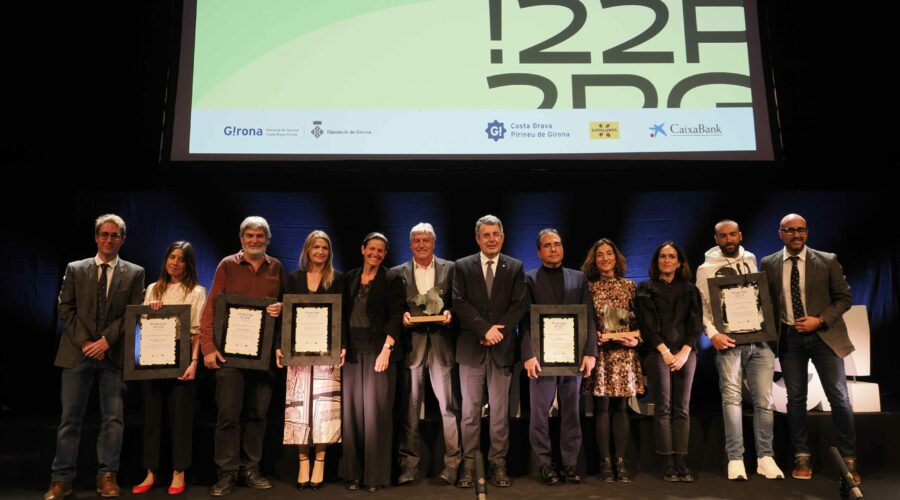 G! Awards, the festival of Girona tourism, celebrates its 17th edition with two hundred attendees
Girona, April 3rd 2023
On 30 March Girona hosted the 2022 Girona Counties G! Tourism Communication Awards ceremony, organised by the Costa Brava Girona Tourist Board. The ceremony was presided over by Miquel Noguer, chairman of Girona Provincial Council and the Costa Brava Girona Tourist Board, and attended by two hundred invited guests, who included authorities, winners and representatives from Girona's tourism sector. The event was sponsored by Caixabank.
During the ceremony nine awards in three categories were presented: honorary and special, tourism communication and research awards.
G! Josep Pujol i Aulí Award for Best Professional Career went to Martí Sabrià Deulofeu, for his professional legacy of tourism initiatives in Baix Empordà after more than four decades as director of the Costa Brava Centre Group and the driving force behind the creation of the Institute of Economic Promotion in Palafrugell.
G! Francesc Xiquet Sabater Award for the Best Business Project went to Grup Sènia, a family business that owns the most campsites in Catalonia, which stand out for their synergy with the environment, their innovative services and the organic integration of the accommodation into the landscape.
G! Jordi Comas i Matamala Special Award went to Ecoturisme Can Buch for its sustainable and self-sufficient accommodation project in Sant Aniol de Finestres. It is also a high-quality inland tourism facility, focused on health and energy and food sovereignty with the aim of sharing with and raising awareness among visitors to Garrotxa.
G! Juli Soler i Lobo Special Award went to Cristina Torrent Cos in recognition of her career and professional experience in Girona's restaurant sector and for bringing excellence to the role of maître d' at Bo.Tic restaurant in Corçà.
G! Climent Guitart Award for the Most Inspirational Showcasing of the Costa Brava and/or Girona Pyrenees' Values and Tourist Attractions went to Eddi Fiegel for the report 'A magnificent Catalan Grand Tour' in Wanderlust magazine.
G! Award for the Most Original and Innovative Content about the Costa Brava and/or Girona Pyrenees' Range of Tourist Options went to Daniel Romaní for the collection of nine articles about film locations in the province of Girona published in Ara newspaper.
G! Award for the Best Tourist Experience on the Costa Brava and/or in the Girona Pyrenees went to Corine Stübi for the report 'Costa Brava' in the Swiss magazine Maison et Ambiances.
G! Award for the Best Sustainable Tourism Activity and/or Experience on the Costa Brava and/or in the Girona Pyrenees went to Manuel Meyer for the article 'Katalonien: Genussradeln zwischen Vulkanen und Mittelmeer', published by German news agency DPS.
G! Yvette Barbaza Research Award went to the project 'Identification of mobility patterns using artificial intelligence: an opportunity to organise tourism in the province of Girona' by Jo Sanmartí Vives.