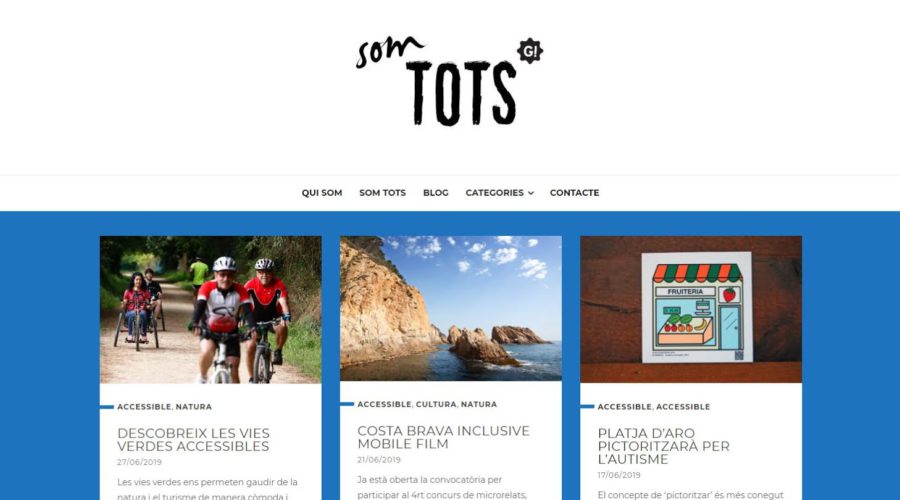 Launch of the Costa Brava and Girona Pyrenees' first inclusive tourism blog, We are All, G! AWARDS
Girona, 4 July 2019
The blog We are All is starting with six articles that offer recommendations for users and include "Discover the accessible greenways", "Banyoles accessible to everyone", "A dramatized and accessible tour of Ullastret" and "Platja d'Aro will be picturised for autism".
As established in the 2019 Plan of Actions and Goals, with a view to ensuring inclusive tourism services the Costa Brava Girona Tourist Board is launching a new inclusive tourism blog with a website that has AA accessibility certification, awarded by the World Wide Web Consortium (W3C).
In July, the Costa Brava Girona Tourist Board of Girona Provincial Council published Girona Province's first inclusive tourism blog, We are All, which raises tourism and inclusivity related issues. This trilingual blog (Catalan, Spanish and English) is aimed at people with functional diversity and seeks to encourage and to increase the accessible tourism available across the board as regards the variety of experiences and activities offered by the Girona tourism sector.
The blog is divided into different categories –including "Accessible", "Culture", "Nature", "Adventures" and "Testimonials"– to facilitate browsing on the platform and a logical organisation of the contents, and will appear every two weeks. There are currently articles on adapted, accessible greenways, on visits to a destination's different points of interest that are universally accessible (such as Banyoles lake), on the project to picturise public space in Platja d'Aro, and on the dramatized visit to the Iberian town of Ullastret, adapted for people with reduced mobility and visual disability. From August onwards, moreover, there will be a new section entitled "Testimonials" in which Martin Heng, journalist and international editorial advisor who specialises in inclusive tourism for Lonely Planet magazine, will tell of his experience on the Costa Brava after a fam trip he made there from 22 to 28 June.
The new website, which was commissioned to Tothom Web and El Giroscopi, has AA certification, awarded in accordance with the accessibility guidelines of the World Wide Web Consortium (W3C). We are All has therefore been programmed to guarantee accessibility on all levels, regardless of each user's personal devices and circumstances. This includes people with visual, physical or cognitive disabilities and, therefore, anyone else whose external circumstances (such as noisy or very bright environments) make access difficult. The web also features descriptive pictograms that indicate the level and type of accessibility involved in the activities described in the published articles.
We are All has been created to encourage the inclusive tourism offering and with a view to raising awareness of and providing information on best inclusive practices, applied both by companies and destinations in the Girona tourism sector. Likewise, at the start of June a Facebook page entitled Costa Brava Girona Pyrenees Inclusive Tourism was launched in order to create a community, to maintain contact with followers and to keep them informed about the latest updates to the blog.
We are All blog link: https://www.somtots.com/
Facebook: https://www.facebook.com/TurismeInclusiuCostaBravaPirineuDeGirona/