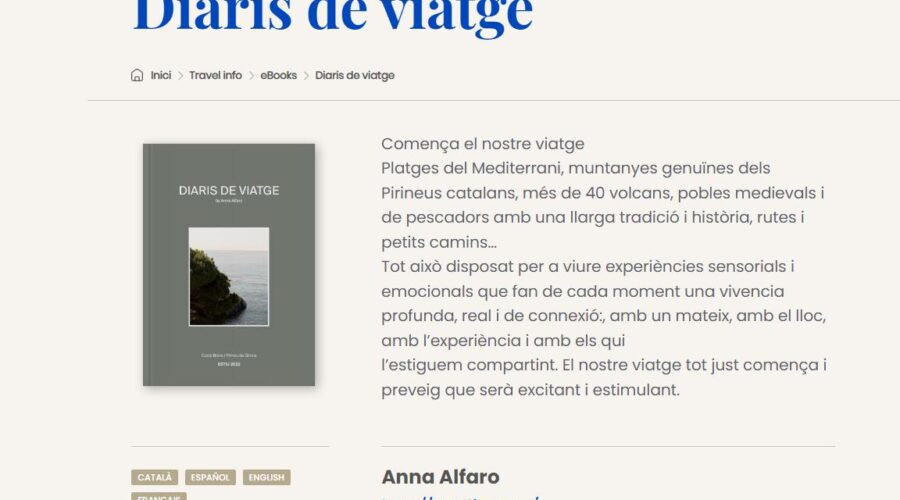 New free ebook «Travel journal» by Anna Alfaro, in which she describes sensory experiences and presents luxury establishments in the destination
Girona, May 2023
The new digital publication entitled Travel journal was written by wellness coach and communicator Anna Alfaro and illustrated by photographer and artist Sara Guerrero. The 36-page book details a six-day journey the author took on the Costa Brava and in the Girona Pyrenees that was focused on discovering and experiencing wellness activities in places with spectacular scenery and cultural attractions, while also recommending various luxury accommodation connected with the theme. The book is designed to present a selection of wellness ideas for visitors seeking a holistic stay in the province of Girona.
The aim of this new publishing project, promoted by the Costa Brava Girona Tourist Board's Health and Wellness and Premium Marketing Clubs, is to publicise local experiences and products together with the people behind each project, and authentic establishments and ideas through which the province can position itself as a high-quality wellness destination in the tourism sector.
Travel journal by Anna Alfaro is free to download in four languages (Catalan, Spanish, English and French) and has been added to the library of ebooks published by the Costa Brava Girona Tourist Board.
Download the ebook.