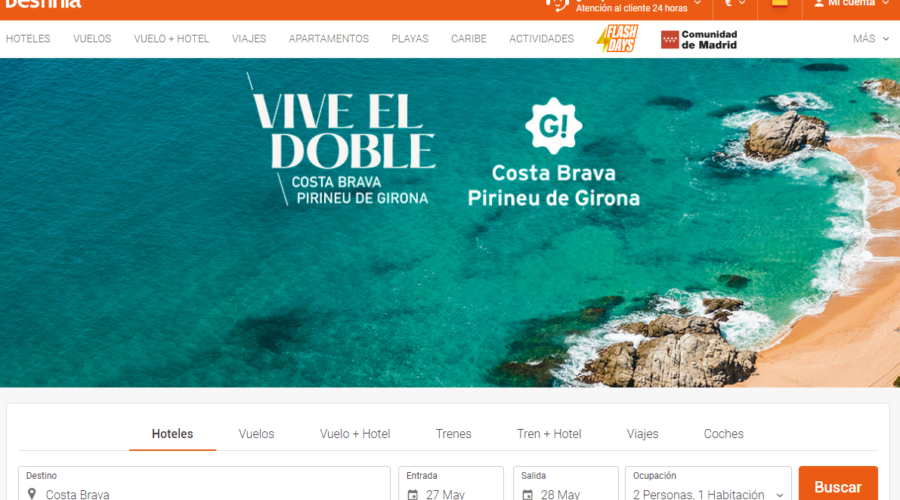 Girona, 27th May 2022
Relaunch of the 'Live twice in the Costa Brava and Girona Pyrenees' campaign for summer 2022.
The 'Live twice' publicity campaign, promoted by the Costa Brava Girona Tourist Board, has a budget of 485,000 euros and is addressed to the Catalan, Spanish and international markets.
From 20 May until the end of June, a loyalty campaign is being run in the Catalan market on Catalan television channels (TV3 and 3/24), tourism and travel reports in newspapers and digitally on social media.
The campaign addressed to the national market, designed to position the Costa Brava and Girona Pyrenees destination in regions such as Madrid, the Basque Country and Valencia, began on 12 May and will end on 31 July. In this case, the media used are the television programmes Zapeando on La Sexta, and Juntos on Telemadrid, with the aim of obtaining broad coverage and greater visual impact among the population. The campaign is also being run in outdoor settings and with innovative large-scale formats such as photo ads in shopping centres and big screens in busy public spaces in Madrid, Bilbao, Vitoria, San Sebastián and Valencia. Also interesting are the actions run by digital travel agencies such as Logitravel and Destinia, who offer a wide range of brand and content formats and communication channels. The campaign will also broadcast content on the radio programme Gente viajera on Onda Cero.
Regarding the specific campaign targeted at the French market, there are plans to carry out an action designed to continue positioning the Costa Brava and Girona Pyrenees brands and spread messages of safety and diversity in the destination's range of tourist options. The campaign covers the whole of France, with particular emphasis on regions such as Occitania, Paris – Île-de-France, Provence-Alpes, Rhône-Alpes and Nouvelle-Aquitaine. Launched on 17 May and ending on 30 June, the campaign was run on television and in publications (Le Figaro Magazine, Le Monde Magazine, OBS, Le Figaro Voyage, Petit Futé and Via Michelin), with digital travel agencies (eDreams, Logitravel, Voyage Privé and Last Minute) and on social networks. Advertising was also shown on building façades in iconic spots such as Rue du Renard and Rue de Bretagne in the city of Paris.
Finally, from 25 May to 25 July, an international publicity campaign is being carried out in the UK, Belgium, the Netherlands and the Nordic countries. Audiences will be targeted mainly using digital formats as these can optimise resources, segment audiences and make the content more adaptable. In this case, the campaign is being run on the travel search engine Skyscanner, the digital agency Sojern and social networks. The message will also be spread in parallel using attractive formats with an important impact such as on bus routes in Belgium and in leading national newspapers such as The Guardian in the UK.