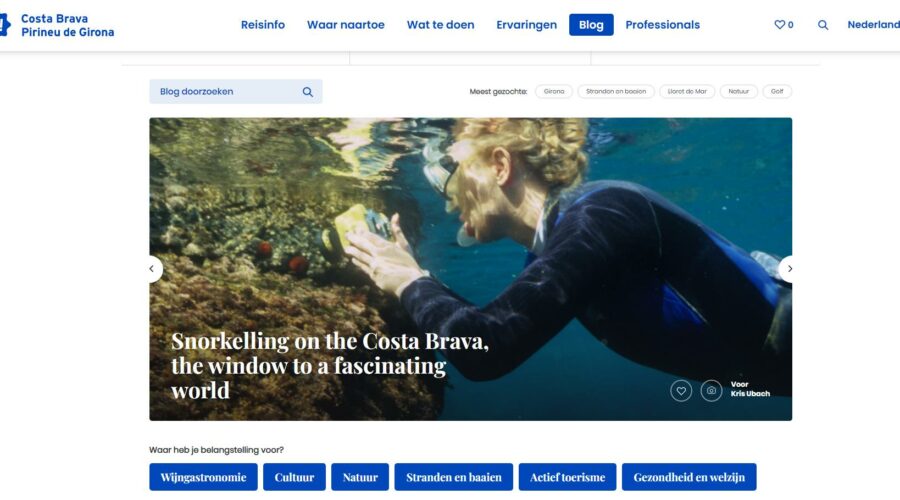 The Costa Brava and Girona Pyrenees brand launches its updated official website www.costabrava.org
Girona, April 25th 2023
The new Costa Brava and Girona Pyrenees official website, created by Girona Provincial Council's Costa Brava Girona Tourist Board, is a source of inspiration for tourists and locals, available in seven languages (Catalan, Spanish, English, French, German, Dutch and Russian). The aim is to influence potential visitors during the different phases of choosing a holiday destination, provide visibility for member businesses through tourist experiences, strengthen high-quality audiovisual content and transmit the values of authenticity, diversity and quality while promoting the 'Live Twice' concept.
The tourist information website boasts a revamped graphic image and six main sections: 'Travel info', 'Where to go', 'What to do', 'Experiences', 'Blog' and 'Professionals'. Website users will find all the essential information they need to plan their trip and discover new activities, and they can use the experience selection tool. There is also a section designed for professional users (travel agencies, tour operators, event planners, media and opinion leaders) that want to collaborate or work with the destination.
The home page introduces the latest highlighted content, such as events and campaigns, according to the language chosen by the user. The page lists the different sections and offers features such as maps, free ebook downloads, subscription to the newsletter and access to the destination's official social network profiles, among others.
In addition to the practical information, there is a blog called 'Be Inspired' with articles written by various authors who describe specific suggestions, routes and services, among other things, giving a well-rounded view of the destination.
The updated website has been created using measures that guarantee accessibility for all users.
This is a key project in the Costa Brava Girona Tourist Board's digital marketing strategy that is designed to promote the destination and its values among visitors by offering accessible, high-quality content in line with current trends. At the same time, the aim is to position the destination in the main digital search engines and platforms in the tourism promotion sector.
Prior to activating the new website, and as part of the Costa Brava Girona Tourist Board's new social media management strategy, a profile has been set up on TikTok, @costabravapirineu, in response to global changes in social media consumption patterns.
Visit the new website www.costabrava.org
Link to the website video presentation