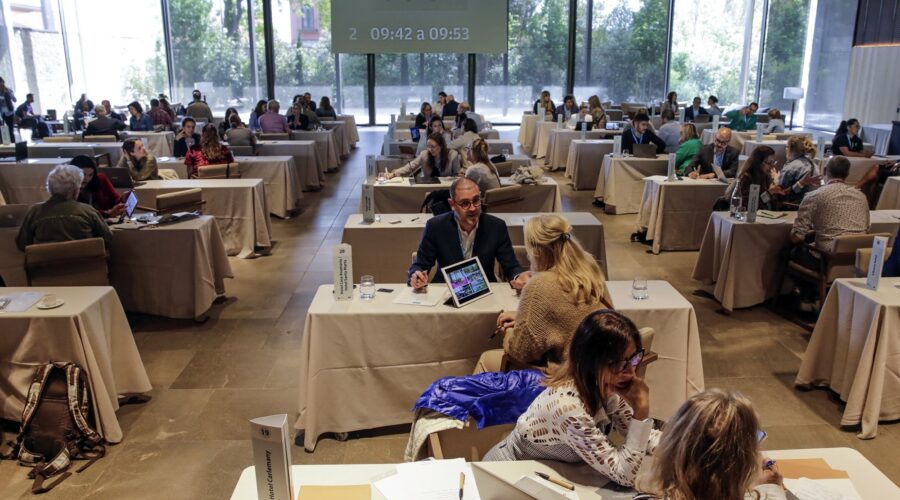 The Costa Brava welcomes forty international travel agents and tour operators
Girona, May 12th 2023
From 11 to 14 May, the Costa Brava hosted a visit from forty-two travel agents from the UK, Belgium and the Netherlands as part of the promotional action 'The Unexpected Costa Brava & Girona Pyrenees' organised by the Costa Brava Girona Tourist Board to promote the destination's tourist options among travel opinion leaders in the British, Belgian and Dutch markets.
During the four-day event, representatives from generalist British travel agencies and tour operators such as Thomas Cook, Wexas, Exodus, Trending Travel and Barrhead, and others from the Benelux countries such as Sunweb, ANWB Reizen, Expair Tours, VOS Travel and Better Places, took part in a workshop with representatives from Girona's tourist companies and organisations while also discovering the province of Girona's tourism options through themed familiarisation programmes.
Peralada Castle provided the venue for the forty-two international travel agents and representatives from forty-six tourist entities from Girona to come together, generating around seven hundred professional meetings. After the workshop, over the course of the weekend, three familiarisation trips on the themes of culture, gastronomy and active tourism activities were organised for the travel agents in order to present them with all the possibilities that the destination can offer their potential clients.
This marketing promotional action was planned as part of the Board's 2023 Action Plan and received the support of the Catalan Tourist Board and Vueling. The event included the active participation of numerous tourist companies and organisations from the province of Girona that are associated with the Costa Brava Girona Tourist Board's different marketing clubs.