Another world is possible and it is called Girona Pyrenees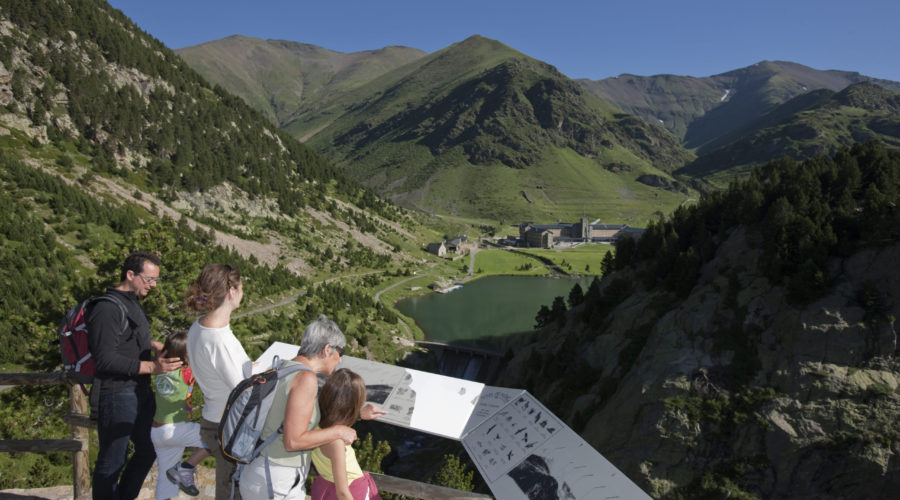 Another world is possible and it is called Girona Pyrenees
Another world is possible and it is called Girona Pyrenees
As a region Girona Pyrenees is as diverse as its orography. It is the sustainable and Mediterranean Pyrenees, with a wealth of natural, culinary and cultural marvels, where there are masses of activities to take part in all year round.
You can spend the morning doing a mountain trail, go kayaking on the river in the afternoon, have a "surf and turf" supper and then wake up with a dip in the sea the next day. In the Girona Pyrenees you can keep body and mind fit in protected natural areas and at historical cultural events.
The Girona Pyrenees is another world because its unique combination of high mountains and proximity to the sea means that there is a regional diversity of customs and traditions, of gastronomy, landscape and activities that is difficult to find elsewhere.
It is another world because the region is home to three such completely different natural areas as the Cadí-Moixeró Natural Park, the Headwaters of the Rivers Ter and Freser Natural Park and the Garrotxa Volcanic Area Natural Park.  It is a region that boasts 25 peaks over 2,500 metres high, from the highest crest of Puigpedrós (2,914 m), in Cerdanya, until it plunges into the sea in yet another natural park, this time that of Cap de Creus.
The Girona Pyrenees is committed to conserving the environment and to responsible tourism.  Two of its natural parks have obtained the European Charter for Sustainable and Responsible Tourism. In addition, the region offers numerous local experiences to develop a communion with nature, such as forest bathing and other wellness activities held outdoors, with the utmost respect for the local environment, and a whole array of proposals to discover the flora and fauna actively, by learning to appreciate them and helping to preserve them.
The snow becomes the great protagonist in winter. The five ski resorts in the Girona Pyrenees make it the best place to enjoy the thrills of skiing down over 200 km of slopes in Masella, La Molina, Vall de Núria and Vallter 2000 and along the Nordic skiing trails in Guils Fontanera. Go downhill skiing in La Molina, the Pyrenees' pioneer ski resort, which hosts world championships, or go night skiing under the stars in Masella; together these two resorts make up Alp 2500, one of the Pyrenees' largest ski domains. And for families, Vall de Núria and Vallter 2000 offer experiences that include guided snowshoeing trails, whether by day or by night.
The Girona Pyrenees also remains a hive of activity the rest of the year, with proposals ranging from greenways to do with the family, cycle-touring routes, hiking trails along the numerous GR long-distance routes and signposted paths, plant and wildlife observation accompanied by a local guide, kayaking and loads of adventures to suit all tastes (hot air balloon rides, parachuting, canyoning…), in addition to all the mountain sports, ranging from climbing to mountain biking.
The Girona Pyrenees has succeeded in conserving one of the most important cultural heritages in the country, as well as maintaining its own unique character. You'll be able to discover Roman remains in Bolvir and Jewish heritage in Besalú, or the Romanesque legacy left by counts and abbots in towns like Sant Joan de les Abadesses and Ripoll and masses of quaint little villages, like Santa Pau and Beget.
All this historical and regional variety is reflected in an exceptionally high-quality culinary tradition, cooked amidst volcanoes, green valleys and massifs, with "surf & turf" recipes featuring ingredients from both the sea and the mountains, which embody its unique spirit.
In the Girona Pyrenees, quality produce, grown and made with respect for the environment and with top-quality taste and aroma, is fundamental for supplying the restaurant kitchens and wine cellars. Cheeses from the Garrotxa   and Cerdanya regions, wines and oils from the Albera massif and from Llívia, lamb and veal from the Ripollès region, volcanic cuisine, traditional mountain dishes… Seasonal local produce, the result of the effort made by families that have been in the business for decades. You'll find "surf & turf" cuisine, volcanic cuisine, cuina del vent and Pyrenean cuisine, all in one destination.
And all this is complemented by an attractive range of top-quality local services and accommodation that know exactly how to make visitors feel welcome. Committed businesses that work in accordance with the values of sustainability, inclusion, accessibility and love of the region.
In the Girona Pyrenees another world is possible, and it is there for you to discover.