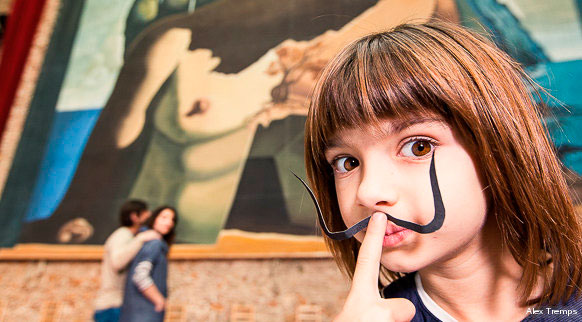 Which surrealist genius, inspired by the capricious Tramuntana wind, sported a moustache with the tips pointing up to the Costa Brava sky? Who can bring to mind the painting of soft, melting pocket watches called The Persistence of Memory? Which museum has an impressive geodesic dome and giant eggs decorating the roof?
If you can answer any of these questions, you are ready to discover the surreal universe of the Dalí Triangle, with each of its three points marking an emblematic space related to Salvador Dalí. And if you don't know the answers, our suggested route taking in the three different museums will certainly not leave you indifferent but will captivate your senses with its spectacular atmosphere and landscape.
The works and personality of Salvador Dalí are closely linked to the Costa Brava landscape that inspired his paintings, sculptures and writings. The Dalí Theatre-Museum in Figueres houses many of his works, as well as jewellery, sketches and surrealist installations. The Portlligat House-Museum near the Mediterranean village of Cadaqués is a group of fishermen's dwellings purchased by the artist over the years in order to set up his house and studio. The third point of the Dalí Triangle is Púbol Castle, the private residence of Dalí's wife Gala, located in La Pera, a small village near La Bisbal d'Empordà.
"It is of course obvious that other worlds exist but, as I have often said, these other worlds exist within our own, they reside on earth at the very centre of the dome in the Dalí Museum, which contains the whole new, unsuspected and hallucinatory world of surrealism".
Salvador Dalí