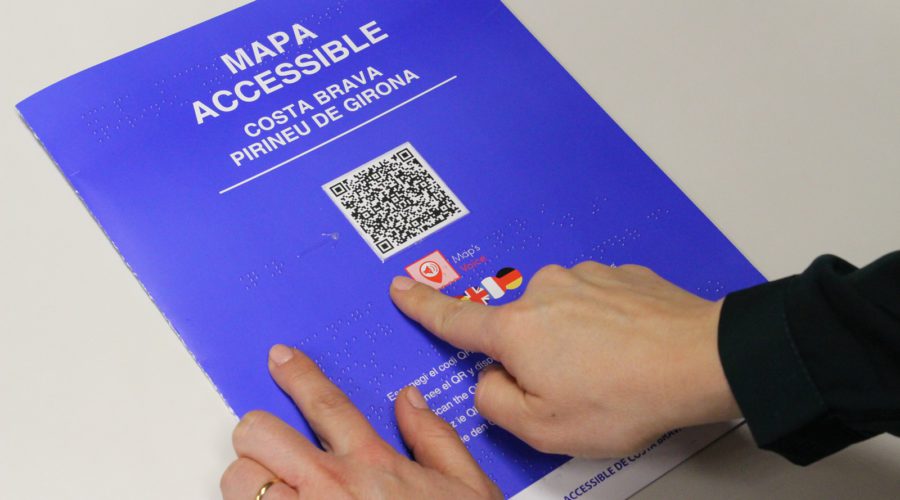 The first accessible tourism map of the Costa Brava and the Girona Pyrenees is published.
Girona, 28 January 2019
This January, the Tourist Board printed 3,000 accessible maps for distribution at marketing actions and tourism trade shows as well as at the sixty-odd tourist offices throughout the province and to associations for the disabled. It is a tactile and audio map presenting fifteen accessible places of interest in the Costa Brava and the Girona Pyrenees: La Molina and Masella ski resorts, the lake of Banyoles, the medieval villages of Pals and Peratallada, the Iberian settlement at Ullastret, the valley and sanctuary of Núria, the Vila Vella of Tossa de Mar, Girona's historic centre, the natural parks of the Garrotxa Volcanic Area, Montgrí, the Medes Islands and Baix Ter, Montseny, the Aiguamolls de l'Empordà and Cadí-Moixeró, the Gala-Dalí Castle in Púbol and the Dalí Theatre-Museum in Figueres, the ruins of Empúries, the monastery of Sant Pere de Rodes, the greenways, La Selva's coastal botanical gardens (Marimurtra and Santa Clotilde), Besalú and Santa Pau.
All fifteen tourist sites are accessible for wheelchair users. Eight out of the fifteen places are also accessible for the visually impaired, three for persons with hearing impairment and one for the mentally and cognitively disabled.
On one side the map is written in braille, in Catalan, and is made up of different embossed features which enable the visually impaired to work out the contents. On the other side, there is a QR code which gives access by mobile phone or tablet to an online audio guide in five different languages – Catalan, Spanish, French, English and German – with a recording of the information about each of the points on the map. The contents will be updated as the range of accessible tourism options develops.